Welcome to Katapult – a studio for contemporary performing art located in Berlin, Germany. Run by artists for artists, agile and flexible with a do-it-yourself mentality – offering residencies, workshops and open training for artists, creators and self-starters, as well as for cultural events, photo and video shoots.
Katapult exists to further the development of visual performing arts in Berlin and beyond. Our doors are open to anyone with the drive to learn and create, whether amateur or professional.
NOTES ON CREATION
UPCOMING WORKSHOPS
NEWS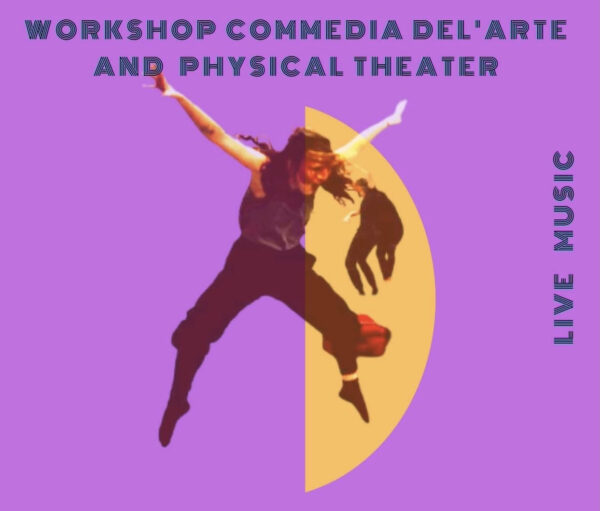 29th, 30th October 2022
h 13:00 – 20:00
by Francesca Sarah Toich (performing artist specialized in Commedia dell'Arte), Daniela Marcozzi (physical theater artists) and Luigi De Cicco (musician, composer and theater artist).
​Marcozzi Contemporary Theater is pleased to present a research-based mask and Commedia dell'Arte workshop. 
The three artists will work together with participants to discover a different approach and use of the mask, starting with Commedia dell'Arte and exploring how the body can itself be transformed into a mask. Continue reading "Workshop Commedia dell'Arte and Physical Theater with live music"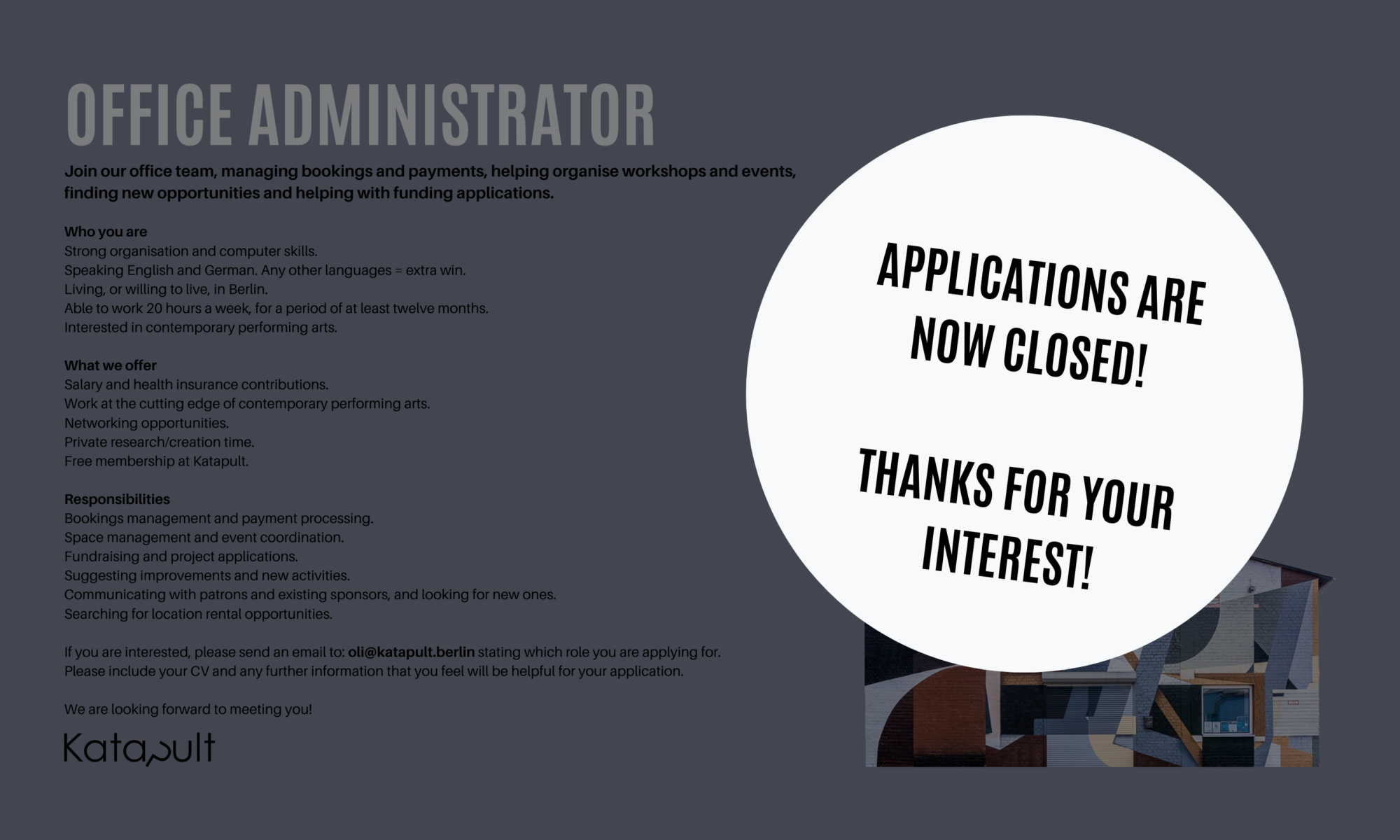 Applications are now closed – thanks for your interest!
As Katapult continues to expand, we are looking for energetic new team members to join us in our cosy office.
Right now we are looking for an Office Administrator.
If you are interested, please send an email to: oli@katapult.berlin stating which role you are applying for. Please include your CV and any further information that you feel will be helpful for your application.
We are looking forward to meeting you! 🙂
Digital Knowledge Sharing Event at Katapult
9th and 10th June
open from 14.00 – 19.00
Price: FOR FREE (GRATIS)
Thanks to generous support from Erasmus+, Katapult is happy to host two days of open activity presenting the results of our research into how digital is being used to improve our circus practice. Whether it be in a digital creation studio, an online interactive performance, distance learning or even simply just self-organisation, it is undeniable that digital influences all aspects of modern life.
Over the last months, in partnership with Magyar Zsonglőr Egyesület (the Hungarian Juggling Association), we have engaged with a number of projects from Germany and Hungary that have been using digital in unusual and innovative ways, to go beyond simply staring at a screen.
During your visit, you'll be able to try out a few of the technologies discussed, to ask questions about ideas and projects you have yourself, and meet with other interested artists to find new ideas together.
Activities include:
Information booths, presentations and interactive exhibits:
CirQular Project – 360 degree multimedia installation with Katapult QR code tour
Circus in VR
Digital Tools for Education
Integrating Digital into Creative Process
The space will be open from 14.00 – 19.00 on Thursday and Friday (9th and 10th June).