On the 16th of July, Jennifer Cohen will teach an advanced aerial hoop workshop followed by a short performance and an impro-jam with Noam Helfer.
Where: Katapult, Wilhelminenhofstraße 91, 12459 Berlin
When: 16.07.2023

The workshop will be mainly about dynamic technique and creative work and it's suitable for intermediate + level.
Workshop duration: 3 hours.
After the workshop, we'll do a small break, a snack and then we'll go back in, Jennifer will do a short performance with Noam Helfer – a Musician / Producer / Experience designer.
The show will take about 15-20 minutes and afterwards we'll continue straight to a 40 min Impro-Jam.
Schedule
10:00 Pre-workshop technical arrangements + registration
11:00 Workshop
14:00 Snack time
15:00 Performance and Impro Jam
16:30 wrapping up
Costs:
Participating in the workshop will cost 60€
Participating in the performance / Impro-Jam will cost 15€
Participating in both will cost 70€
ABOUT THE WORKSHOP
The aerial hoop workshop will focus on dynamic technique and creative work.
The DNA of aerial technique: how to maximize our understanding and control in all of the basic aerial vocabulary. In order to fly high first we will strengthen our roots.
Includes:A structured and creative Aerial warm up and conditioning.
Dynamic-Effortless technique: includes different variations of swing drops and transitions.
Balances: how to connect to the changing balance-center.
Rolls: all the secrets and tips for the different rolling variations.
Spins: different variations how and why
Organic Movement and Individual expiration: Different tools and techniques to develop your present and movement on the air.
Required Level: intermediate +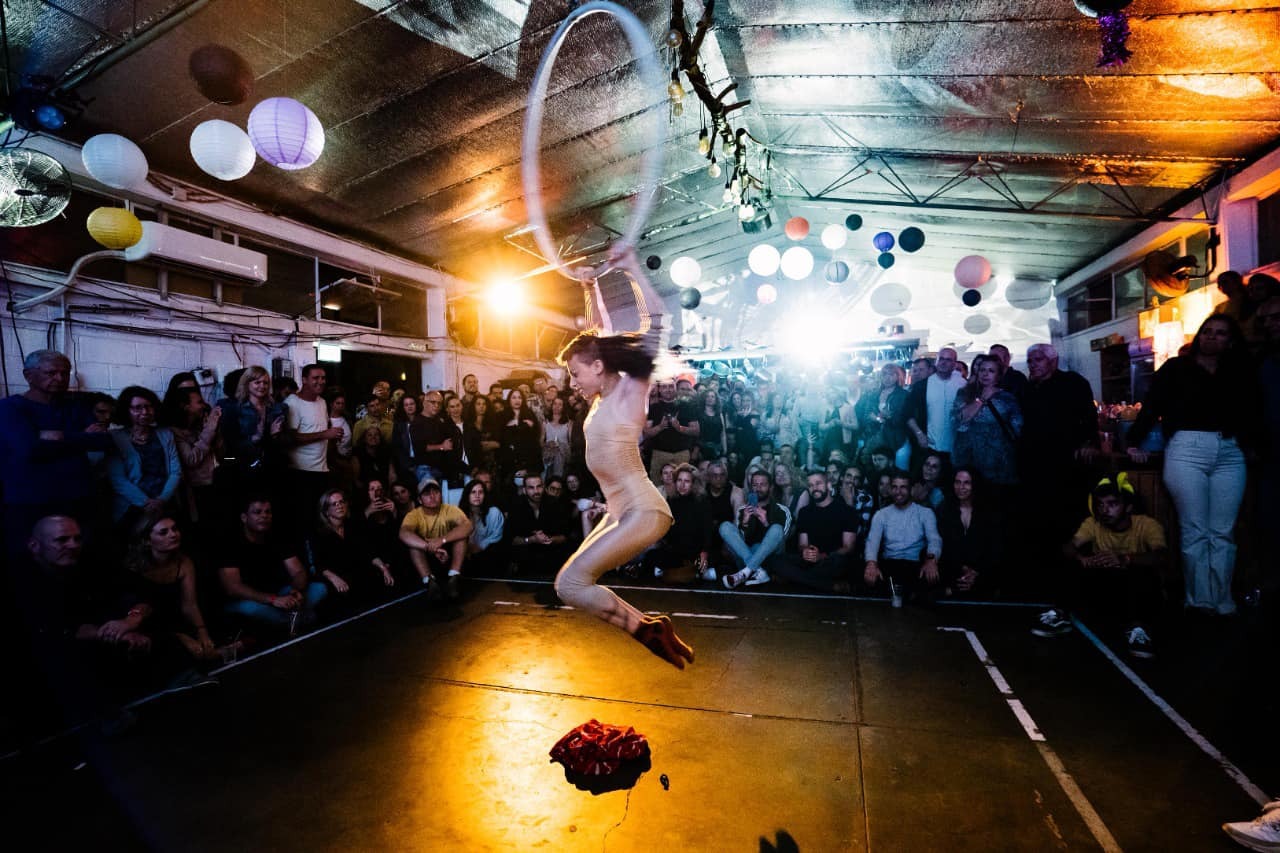 Performance -> Impro Jam
Jennifer and Noam collaborate artistically for many years, each collaboration looks a bit different. This time, they decided to try a new platform of experience:
Performance / Impro Jam
We'll start with a 15-20 minute show, sharing our recent artistic research. afterwards, we'll open the space slowly into an impro-jam – guided by us and inviting you to move freely in space.
Together we'll see where it evolves.
ABOUT US
Jennifer Cohen – a contemporary poetic performer choreographer, multi-discipline International circus artist and a dreamer.
Jenny is exploring life and the physical-mental body as a tool of individual and collective healing process. She uses circus discipline for expressing her inner world and artistic perspective.
Her stage experience is wide and dynamic, and includes performances around the world. Recently she performed with the companies Cirque du Soleil, Cirque Plume and many more.
In her personal development and research, Jenny combines dynamic effortless technique – with synced relaxed breath work, and deep listening to the changing body center points. Decomposing each movement/ "trick" to maximize the control and understanding of its essence.
A main guide line in her teachings is – building a supportive body preparation in order to prevent injuries.
Noam Helfer – a musical entrepreneur, a sound artist, a singer, and an artistic experience designer. He's an artist of atmosphere, movement and perception. His artistic ventures are very dynamic, but can be narrowed down to 3 main channels of creation.
A vocalist, producer and multi-instrumentalist. In his recording studio he collaborates and releases music under the monikers – Helfer and Age is a Box. He works with various colorful artists such as Kamila, Oren Lavie, Roy Avital – Garden City Movement, Totemo, Idil Meśe and many more.
He composes soundtracks for many world-known Choreographers (Sharon Friedman, Fresco, Vertigo, Lior Tavori, Daniel Elnuma and many more).
He curates, directs and produces multi-disciplinary conceptual art events under the name "Capsula".
He's released music via different labels around the world, such as Anova Music and BLDG5 (Israel),NeedWant (England), Atmosphere (Belgium), Lukins (Germany) and these days he's more into self-releasing but that tends to change from time to time.